I can't seem to help it............people have links on their own blogs to other blogs, where there are more links, .............. It's a vicious circle, or do I mean a slippery slope? Thanks to some hints, and major hand holding from Mel (in Dubai), I have got my own Blogroll. When I have some things to ignore (ie housework) I will update my links too, now that I have some small inkling of what I am trying to do.
I decided to work on my Patchwork Sampler on Tuesday-didn't get a whole lot done, but I have remembered why I decided to start this so hopefully it will get some more action in the near future. I also have been rummaging through my knitting.....stuff........for the want of a better term. I have ditched several UFOs that for various reasons will never be finished (ie half of a mitten first started for my son who now has hands almost as big as mine, and also started without checking my tension so it was likely that I wouldn't have enough yarn anyhow). My knitting WIPs now consist of a scarf for Caitlin (daughter) which will resemble when finished an electric blue feather boa, and a poncho for myself (kit from Spotlight with spec. yarns and using elongated stitch which is new to me).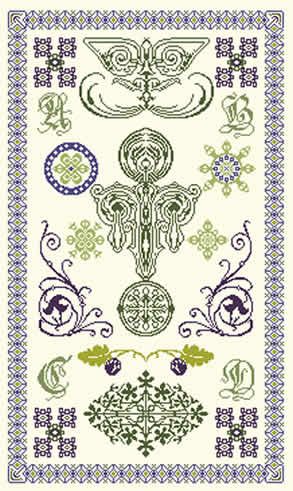 I have materials for a model (cross stitch) on their way to me. It is a sampler from The World of S, and Australian designer and will be stitched with Dinky-Dyes silks. Here is a pic of the sampler. I will be working on this for the next 6-8 weeks or thereabouts-I have only done some smaller models so the timeframe is hard to estimate. I'm thinking that I will probably alternate the model sampler with another stitching project, and some knitting. Not sure what the "other" project might be. I had some urgings to work on The Storyteller (Teresa Wentzler) which hasn't been stitched on for.........well over a year. And there's also MTM which (since I saw someone's-Carol's I think, with Pt 5 nearly done) has been whispering for some time. Who knows?? I certainly don't!!